You are here
UK patients needed for "MyeloidScan" study – Long COVID in patients with myeloid blood cancers
MyeloidScan – Long COVID in patients with myeloid blood cancers
Have you had COVID 19 infection? We need to find out more about long covid affects people like you – can you help us?
We would like to share with you an opportunity to take part in a study to investigate the impact of COVID-19 infection in people with myeloid blood cancers.
What is the study for?
The MyeloidScan (REC 292188) is being led by Dr Oni Chowdhury and Professor Adam Mead, Consultant Haematologists in Oxford. The study aims to look at the effect of COVID-19 infection on the function of some of the body's key organs using detailed MRI scans and blood tests.
Who is the study for?
The study is for:
anyone with MPN, CML, MDS who has had COVID-19 infection.
You need to:
travel to Oxford for 3 appointments over a 12-month period
be able to have an MRI scan.
What is involved?
The study will consist of:
A telephone consultation with the study team to discuss the details of the study and book the date for your first visit and MRI scan
Visit 1 baseline – completion of consent forms, medical history, physical examination, blood tests, and MRI scan
Visit 2 at 6 months – physical examination, blood tests and MRI scan
Visit 3 at 12 months – the same as visit 2
We will tell you the results of your MRI scans and blood tests if you want.
How do I get involved?
Please contact our clinical trials team at trialadminhub@oncology.ox.ac.uk to say you are interested in MyeloidScan. We can then discuss whether the study is suitable for you. Please note that MPN Voice / MDS UK / CML Support groups cannot refer you to the study or pass on your details to them.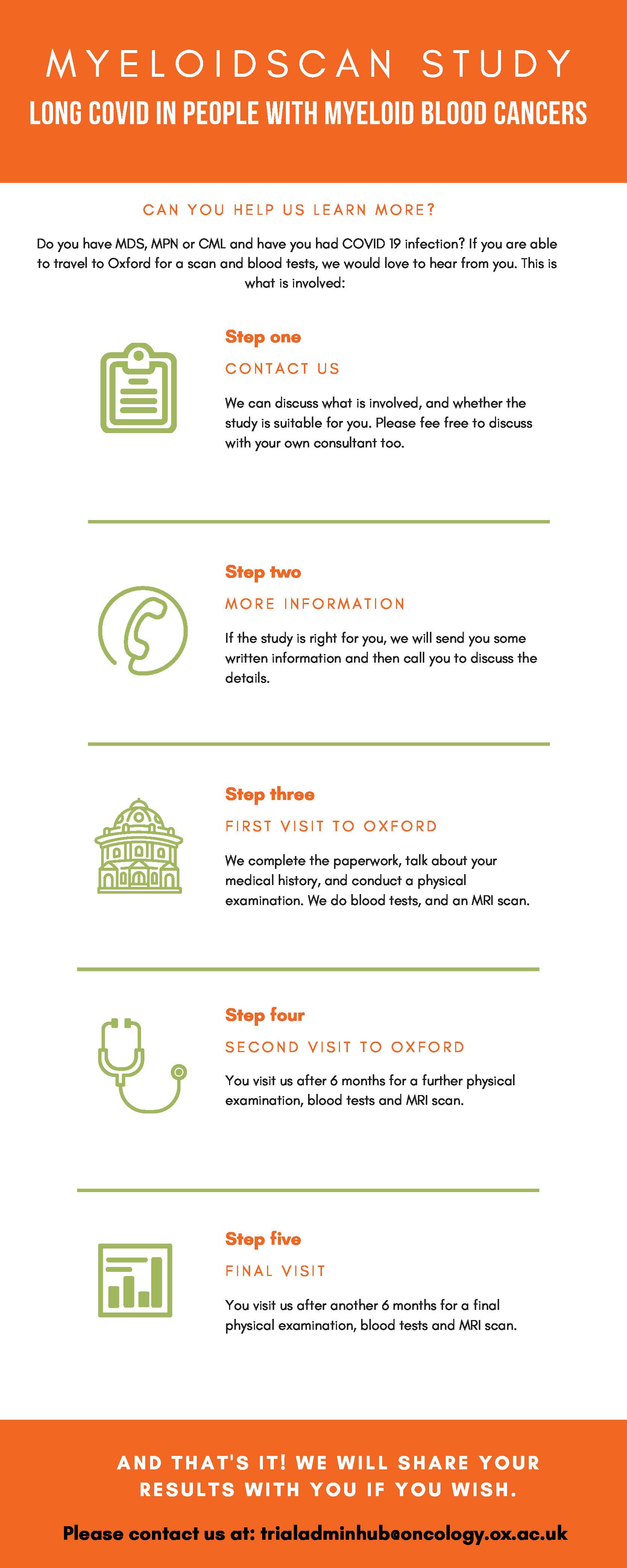 The flyer for the study is attached, and can be opened by clicking on the PDF link below.